School Runnings - the Friends have got to the finish line!
We have AMAZING news!! WE DID IT!!!
Your enthusiasm, participation and generosity have got us to the finish line!
The Friends' School Runnings campaign was already going strong, but this month one very generous (anonymous) parent gave a donation that took the campaign over the line!
This means Epping Primary School can get its running track - and it's all thanks to you. The Friends committee couldn't be more delighted to have helped create this opportunity for all our children, and future pupils of the school. Every single parent/carer who bought a cake, donated a toy, dressed up their children, attended a Friends event, volunteered time, or bought a raffle ticket has contributed to this incredible result.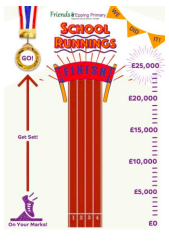 The Friends and the school really can't thank you enough - give yourselves a huge pat on the back. We hope this shows what the school community can achieve together, the sky really is the limit!
The Friends and the school will be talking to find out what the next big improvement could be, but we'd love to hear your ideas too.
Contact the Friends by email on eppingfriends@gmail.com or DM them on their Instagram with any thoughts and they'll consider everything!
In the meantime, they will continue to fund additional school resources, equipment and workshops as always.
A huge thank you to the whole school community!